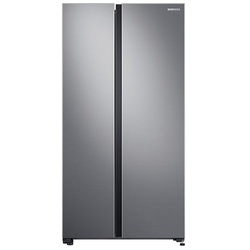 Samsung RS54N3A13S8 540L Side by Side Fridge
4.9 ☆
(915)
/
Write a review
Brand: Samsung | Similar products from Samsung
Total Price:
KSh 186000.00
NB: Prices are subject to change without notice
Highlights
Capacity: 540L
Freezer capacity: 179L
Dimensions: 912x734x1789
Energy efficiency class: A+
Noise level: 43dBA
Climate class: T-class


Door Delivery

Pickup Station

Return Policy
Samsung RS54N3A13S8 540L Side by Side Fridge in Kenya
Samsung RS54N3A13S8 540L Side by Side Fridge price in Kenya is 186000 Shillings. The fridge features a 540L capacity and LED light
Preserve the freshness of food for longer without freezing. No Frost technology maintains a constant optimal temperature in every corner by enhancing air circulation. It stops the build-up of ice on food, like vegetables, so they stay tasting fresh.
The All-around Cooling system cools every inch of the fridge evenly from corner to corner. Cold air is blown out through multiple vents on every shelf level to maintain a constant and optimal temperature.
Freeze your food or make ice in a flash! At the touch of a button, the Power Freeze function automatically sets the freezer temperature to the lowest level and creates a rapid blast of intensely cold air.
The Digital Inverter Compressor automatically adjusts its speed in response to cooling demand across 7 levels. So it works economically and silently. It also provides greater durability, backed up by a 10-year warranty. Buy Samsung RS54N3A13S8 540L Side by Side Fridge online at best price in Kenya at Zuricart
Samsung RS54N3A13S8 540L Side by Side Fridge price and specs in Kenya
| | |
| --- | --- |
| Price in Kenya | Ksh. 186000 |
| Capacity | 540L |
| compressor | 10 years warranty |
| Refrigerant | R600a |
| Energy efficiency class | A+ |
| Climate class | T-class |
| Refrigerator type | SBS |
| Noise level | 43dBA |
| Freezer capacity | 179L |
Show More
KEY FEATURES
Capacity: 540L
Freezer capacity: 179L
Dimensions: 912x734x1789
Energy efficiency class: A+
Noise level: 43dBA
Climate class: T-class
SPECIFICATIONS
Capacity: 540L
Freezer capacity: 179L
Dimensions: 912x734x1789
Energy efficiency class: A+
Noise level: 43dBA
Climate class: T-class
WHAT'S IN THE BOX
Samsung RS54N3A13S8 540L Side by Side Fridge
Accessories
Seller Information
Samsung Official Store

Order Fulfillment Rate: Excellent
Quality Score: Good
Customer Rating: Good
Customers who viewed this also viewed