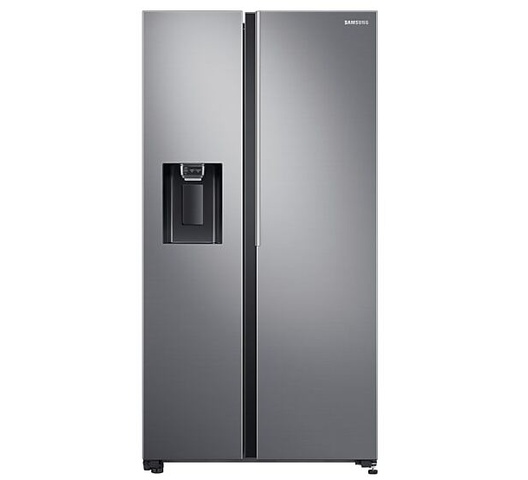 Samsung RS64R5111M9 617L Side by Side Fridge
4.8 ☆
(851)
/
Write a review
Brand: Samsung | Similar products from Samsung
Total Price:
KSh 230000.00
NB: Prices are subject to change without notice
Highlights
Capacity: 617L
Freezer capacity: 240L
Dimensions: 912x1744x716
Compressor: Digital inverter compressor with 10 years warranty
Noise level: 40dBA
Energy star rating: 4 star


Door Delivery

Pickup Station

Return Policy
Samsung RS64R5111M9 617L Side by Side Fridge in Kenya
Samsung RS64R5111M9 617L Side by Side Fridge price in Kenya is 230000 Shillings. The fridge features a 617L capacity and LED light.
Samsung Digital Inverter Compressor lasts longer while saving energy up to 50%. Unlike conventional compressors, it automatically adjusts its speed in response to cooling demand, reducing wear and tear.
Enjoy a rapid cooling performance. At the touch of a button, Power Cool blows intensely cold air into the fridge to quickly cool your groceries or favorite drinks. Install the refrigerator anywhere without time-consuming plumbing or untidy pipes. It has a large water tank for its Non-plumbing Ice and Water Dispenser
The built-in natural fiber Deodorizing Filter eliminates strong smells as the air is continually passed though activated carbon filters. Buy Samsung RS64R5111M9 617L Side by Side Fridge online at best price in Kenya at Zuricart.
Samsung RS64R5111M9 617L Side by Side Fridge price and specs in Kenya
| | |
| --- | --- |
| Price in Kenya | Ksh. 230000 |
| Capacity | 617L |
| Noise level | 40dBA |
| Energy star rating | 4 star |
| Power cool mode | Yes |
| Digital inverter compressor | 10 years warranty |
| LED light | Yes |
Show More
KEY FEATURES
Capacity: 617L
Freezer capacity: 240L
Dimensions: 912x1744x716
Compressor: Digital inverter compressor with 10 years warranty
Noise level: 40dBA
Energy star rating: 4 star
SPECIFICATIONS
Capacity: 617L
Freezer capacity: 240L
Dimensions: 912x1744x716
Compressor: Digital inverter compressor with 10 years warranty
Noise level: 40dBA
Energy star rating: 4 star
WHAT'S IN THE BOX
Samsung RS64R5111M9 617L Side by Side Fridge
Accessories
Seller Information
Samsung Official Store

Order Fulfillment Rate: Excellent
Quality Score: Good
Customer Rating: Good
Customers who viewed this also viewed